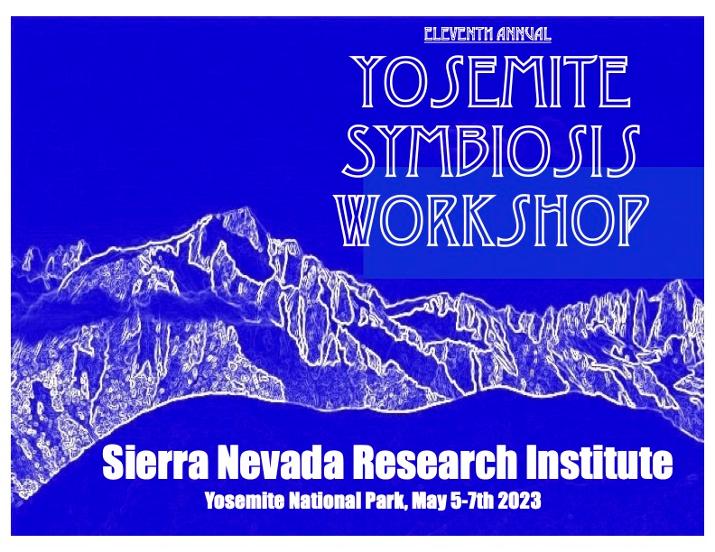 We are SO excited to return to see you all soon!
The ELEVENTH!!! Annual Yosemite Symbiosis Workshop 2023
An integrative meeting of biologists focusing on symbiosis research
May 5-7th, 2023
Sierra Nevada Research Institute, Wawona, Yosemite National Park
KEYNOTE SPEAKER: Monica Medina, Penn State University http://medinalab.org/new/

Why: Our goal is to better integrate scientists that focus on symbiosis research, including researchers that study animal-microbe and plant-microbe systems, as well as broader topic related to the microbiome, cooperation, and mutualism.This will be our 11h annual meeting and we have been consistently attracting scientists from all over the country and overseas.

Who: The meeting is small and intimate by design (~50 participants). We would like to make room for a diverse group of people so we will initially accept up to 3 lab members per group (including the PI) on a first come first served basis. In the past we have covered a range of symbiosis topics from ecology and evolution to molecular mechanisms in different model and non-model systems.

What: The meeting will be made up of two half-days of talks and one poster session. Other than the keynote (~1 hour), talks are 15 minutes long (including time for questions). Posters are flexible for size, but the ideal poster should be no larger than ~4 feet square. When you apply for the meeting, you will provide your preference for a talk or poster.

When: A welcome party will occur for everyone arriving on the evening of May 5th. The talks and poster sessions will be held May 6-7, 2023.
Where: This is the best part! The meeting takes place at the Sierra Nevada Research Station, in Wawona California, within the border of Yosemite National Park!
What will it cost? More good news here! We have received generous funding from the Gordon and Betty Moore Foundation. This will allow us to provide funding awards to select graduate student and postdoc presenters. Even without the awards, we have been good at keeping costs low:

Advanced Registration (deadline April 1st, 2023) Students: $230, Postdocs
$250, PIs $300

Late registration (deadline April 19th, 2023) Students:
$260, Postdocs $280, PIs $330

Registration AND payment page is here: REGISTRATION HERE

Please make sure to REGISTER first then PAY


Please direct any questions to the organizers:

COVID SAFETY:

Attendees will be required to provide attestation of full vaccination status against SARS-CoV2 during the registration process.
Rapid antigen tests will be made upon arrival at the conference (provided by us) to provide an extra layer of safety for attendees.
You can look at ALL past programs here for:
2011, 2012, 2013, 2014, 2015, 2016,

2017, 2018, 2019, (cancelled in 2020, 2021), 2022
Please direct any questions to Joel Sachs at joel[dot]sachs[at]ucr.edu